Form, Theme and Context, Visualizing Map Project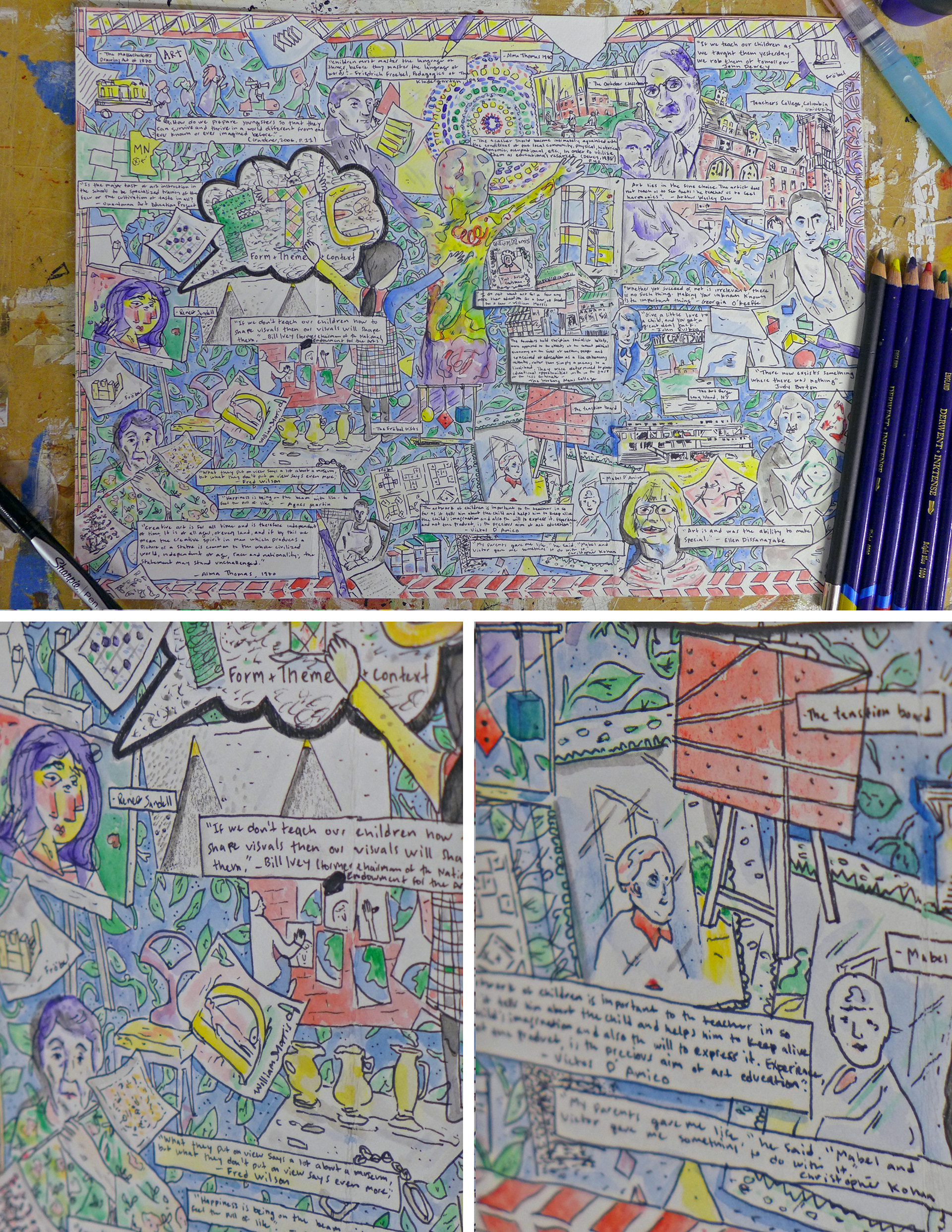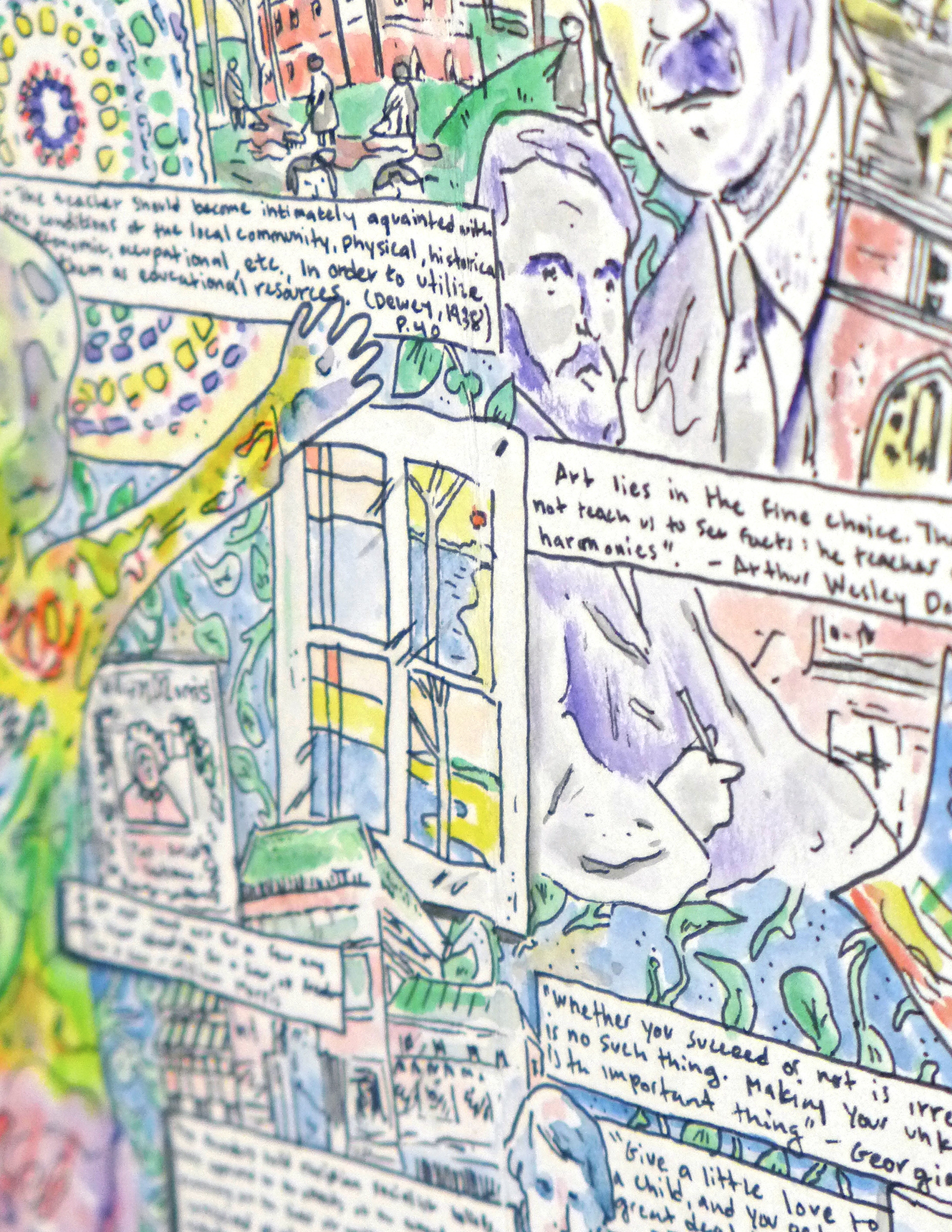 What are the most important ideas, events, or people in the histories of art education and American education in general? Why? 

      For me the most important people in the timeline of art education in America have always been those individuals who promote, inspire and equip students with the necessary tools and resources in order for them to become confident, motivated, and successful learners; qualities that will remain with the individual throughout their lives. One example of such an individual is Howard Gardener. He proposed to educators on how to ready students when he said, "How do we prepare youngsters so that they can survive and thrive in a world different from one ever known or ever imagined before?" (Gardner, 2006, p.11). How do we as educators motivate students to push the boundaries of their learning power, and expand their thinking into new territories and ways of seeing and making? While at the same time, how do we as educators look to expand the traditional practices for how skills and topics are taught in the arts? Through the course readings in Historical Foundations Of Arts Education, I have begun to map out and embrace such educators as; Arthur Wesley Dow, John Ruskin, Victor and Mabel D'Amico, and Judy Burton, as well as events like the Working Man's College, The Massachusetts Drawing Act of 1870, and the Owatonna Art Education Project. They have all helped to elevate art and the critical roles they play in education and in the lives of many people. Additionally, John Dewey, Margaret Naumberg, and Florence Cane believed in helping promote a higher understanding of self in the learner (Mary Ann Stankiewicz, 2001, pg.33), assisting students to seek out and explore subject matter with their own interests and local communities' needs in mind. This responsibility rested on the schools and teachers whose duty was to help foster students' natural abilities in order for them to create, nurture, and promote their natural learning powers (Stankiewicz, p. 49).
What is most successful in your final map?  Identify the strengths of your process and product. 

The strengths of my visual map are of the quotes and cohesion of content which for me are profound and important ideas about education and the individuals in the field of art education who felt passionately enough to devote their life's work to its cause. The limited tool pallet (6 colored pencils, 1 Sharpie marker, 1 pencil, and 1 watercolor marker brush), represent limitations presented by the obstacle of not being able to erase or cover up a mistake. Once a mistake was made, a blemished line or mark, I had to sit with the permanence of the hasty decision, eventually turning my blemished marks into something "special". As Ellen Dissanayake (1993) said, "Art is and was the ability to make special", art isn't about perfection, but about imperfect, honesty and originality, this is what is special, and these qualities about art go all the way back to our prehistoric ancestors (Ellen Dissanayake, The Core of Art Making Special, 1993, chapter 4).
What was the most difficult part of this semester-long assignment? 

What would you do differently if you could start again?
I would have started writing my reflections on the readings earlier, spending a greater amount of time drawing, writing, and then reflecting and continuing the process over the course of a 3-month period. The challenges and the limited amount of time to really engage one's self in all of the readings for the course was a challenge that I am beginning to understand and come to terms with. The rule of thumb is to start early.
What ideas will you carry with you into your future from this course?
I want to keep expanding on my craft and what my role as an artist-teacher is and how I can best serve and support my students in their development as good people. I feel Christopher Kohn (2016) said it best when speaking on his relationship with the D'Amicos, "My parents gave me life, Mabel and Victor gave me something to do with it". This is what teachers, educators, and role models do. They present ideas and platforms for individuals to find the "special' in their life's work.
           Dissanayake, E. (2003).The Core of Art—Making Special. Journal of the Canadian Association                               for Curriculum studies, 1(2).
           Gardner, H. (2006). Five minds for the future. Boston, MA: Harvard Business School Press.
           Kohn Christopher, Mabel And Victor D'Amico house in Amagansett N.Y. 2016.
           Stankiewicz, Mary Ann. Roots of Art Education Practice. Art Education in Practice Series. Davis                               Publications, Inc., 50 Portland Street, Worcester, MA 01608-2013, 2001.