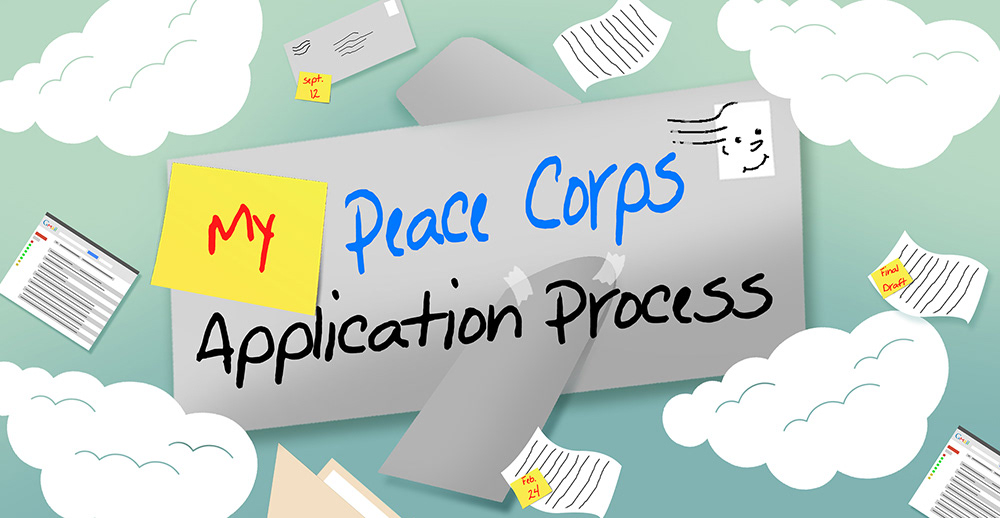 The Peace Corps Experience of CJ Reilly III
My application process as I am sure is the case with many applicants is unique unto the candidate them self. In my case, I was not what the Peace Corps considered to be a completive candidate, although I met the basic requirements for acceptance I was not quite competitive enough to get myself out of the general applicant pool. The applicant pool for thePeace Corps is huge; roughly 14,000 applicants per year apply for about 4,000positions around the world. So it is important when applying to consider what additional skills you can acquire to make yourself unique from the general candidate pool.  
Below is a complete abbreviated timeline of my application process from October 2011 – August 2013. That covers my complete process of becoming a competitive candidate to my invitation for service in Nepal. I hope that this serves as a useful guide for those that are currently going through the application process or for those who are about to start the process. It's long, but if you take it one step at a time you can and will get through it.
October 2011
 - I send out my Peace Corps application that included: cover letter, resume, and recommendations.
November 2011
 - 
receive rejection letter
November 2011
 - call my New York recruiter and have a wonderful and encouraging conversation. (If it were not for this conversation I might not have followed through with the following steps, and I would not have met all the wonderful people that this process led me to meet.)
November 2011
 -
 MyNew York recruiter emails me a pamphlet on what resources if I desired to gain the experience in, would bring me a step closer to a competitive candidate.
November 2011
 - 
December 2011
– I made plans to WWOOF, after researching for a few days I decided to take my love and interest of coffee and work on a Coffee Farm on theBig Island of Hawaii.
January 2012 – June 2012

-
Worked on a 75-acre family run and operated farm on the Big Island of Hawaii
.
During my time WWOOFing in Hawaii, I am keeping my regional recruiter informed of my progress.
July 2012
 - 
I write a letter requesting that my application and resume be reviewed along with my new completed skill addendum.  
July 2012
 - 2 days later, I receive an email stating that my application status has been reactivated and that I can now move on to the next step; the nomination stage.
August 2012
 - 
I have my interview with the regional recruiter, where we have a 2 ½ hour long conversation on my past experiences and life goals; and at the end the interview I was told that I was getting nominated for sub-Saharan Africa as part of Peace Corps agricultural extensions program!!!
August 2012
 - 
November 2012
– I wait to hear from my placement specialist (this was the longest waiting period for me).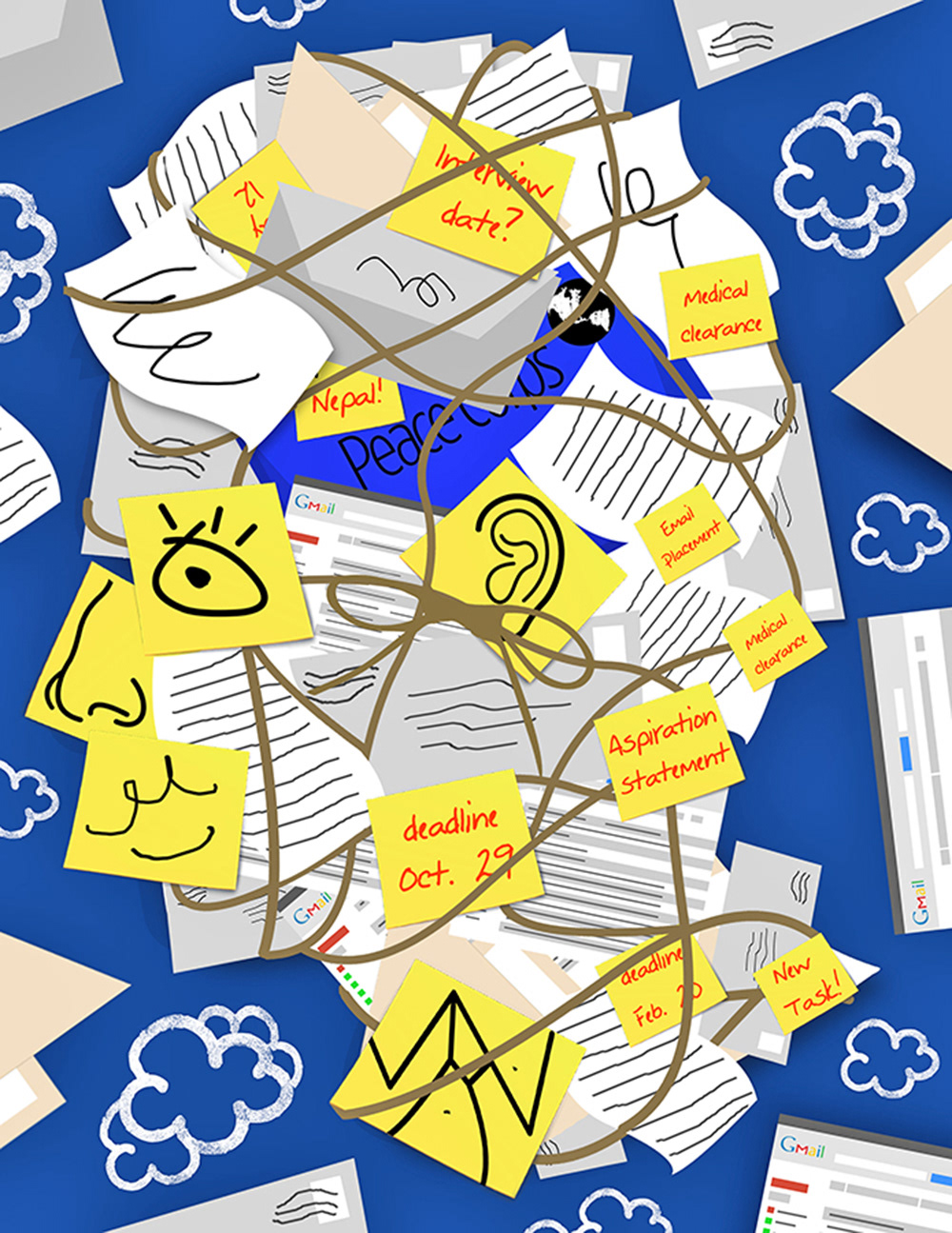 You put a lot of work into building your identity through emails, phone calls and personal statements. Your application process becomes your self-portrait.
December 2012
 - Contact my regional recruiter to see if my nomination status is still in good standing, and I find out that it is and that I will be receiving and updated soon. While waiting, I send my recruiter an updated version of my resume and inform her of my volunteer projects and other relevant topics.
December 2012
 - Have contact with the sustainability specialist and submit newly requested information.
January 2013
 - I wait…and wait… But while waiting to hear what is happening with my application status, I continued my graduate studies in teaching; I keep working on freelance design projects as well as staying active with my volunteer service in New YorkCity.
February 2013
 - The placement specialist in D.C. contacts me and I submit newly requested information.
March 2013
 - I email my placement specialist to see if my nomination date to leave in April was still happening.
March 2013
– Placement specialist emails me letting me know that the program I was originally nominated for has changed and that if I were interested in leaving in September2013, she had a program that she felt was perfect for me.
March 2013
 - I email my placement specialist to let her know that I am honored and would not mind waiting until September 2013 to depart.
March 2013
(two days later) - I receive my letter of invitation to Nepal!
March 2013
– Accept my letter of invitation to serve in Nepal. Then I write my letter of expectations along with my updated resume to my country director of (Nepal).
April
–
June
2013 
–
 Receive my medical and dental requirements via the Peace Corps web-portal, and begin fulfilling all required medical and dental exams.
June
–
July
2013
-
 Final medical clearance
August -
2013
 - Wait for departure date, studying the Nepali language, customs, and traditions, along with preparing family, friends, and colleges of my upcoming departure.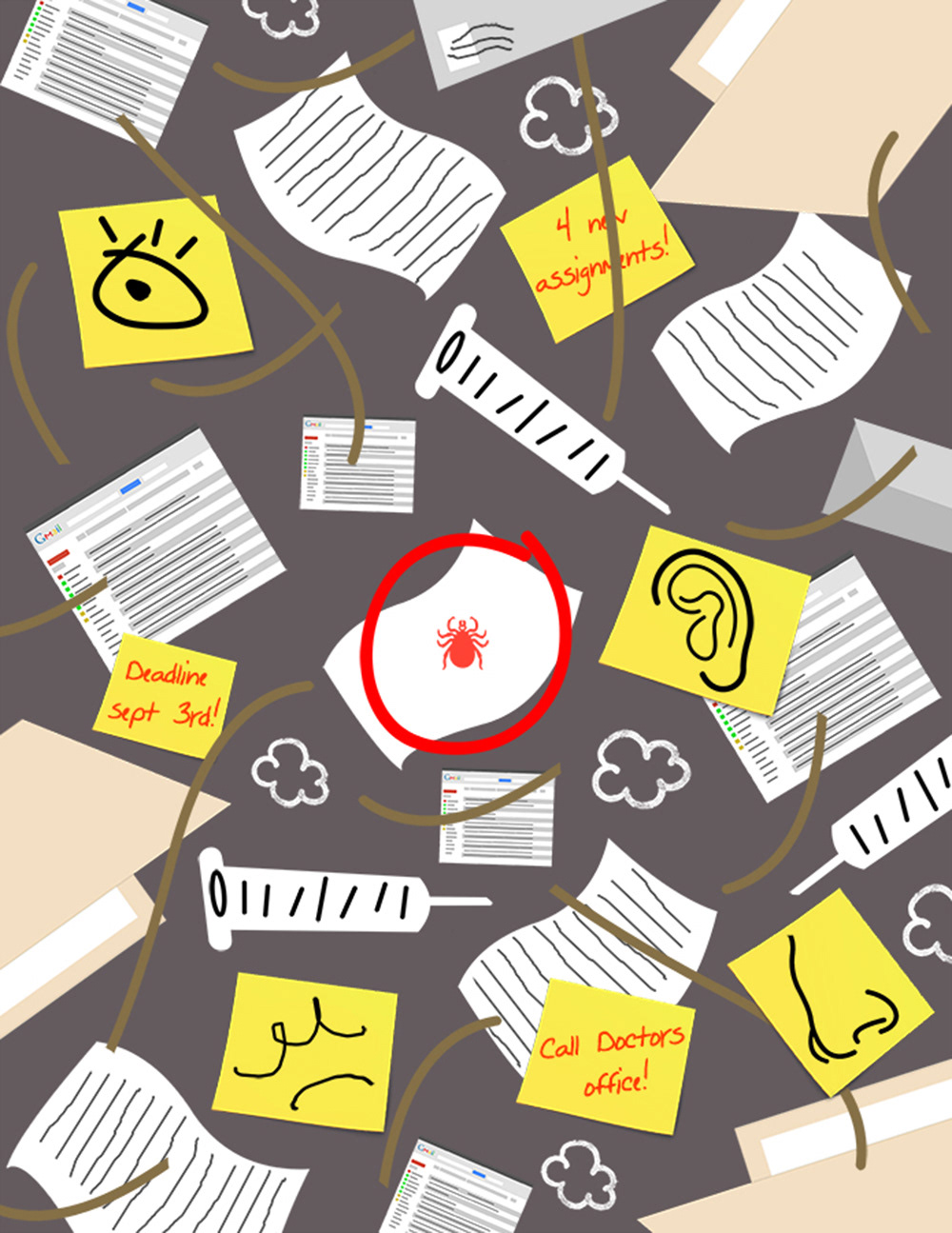 At the time of my Lyme scare, I thought all the hard work that I had put into my application process had come undone.
August 2013
(last week of summer)
 - I came down with a massive fever and sourness in my body; I took myself to the walk-in clinic to find that I had symptomatic similar to that of Lyme disease. After consulting with the doctor I went on antibiotics that day as a precautionary measure, and then emailed the health office of D.C. of my new condition.
Wednesd
ay
28th -
 The next morning after emailing the health post in Washington D.C. I find out in about two hours through email that I was being placed on hold for my program.I am then giving 5 new health-related tasks which included: blood work, authorization of approval from my doctor, a personal statement regarding my ability to work/ have an uninterrupted service for 27–months, and all this had to be completed by Sept 3rd; Three days before I was supposed to be in San Francisco for my staging orientation.
Thursd
ay
29th

 -
 I go for a meeting with my doctor to review the documents; he concludes that I will be fine, and signs my papers for Peace Corps. The last remaining hurdle is waiting for my blood work results to be processed but that my doctor said the processes could take as long as a week and given that the holiday weekend was just another day away It could potentially take longer. At this point, I had done all that I could do. So I did was in my control upload my newly completed paperwork and waited anxiously for the blood work results to come back. Then later that day at 4:15 I get a phone call from the doctor's office saying that my blood work was processed and I tested negative for Lyme. I rushed to the doctor's office to pick up the form and then rushed back home to upload the last remaining document and pressed submit.
Fri
day
30th

 -
 All day Friday I waited to hear back from Peace Corps; then with 15 minutes before 5 pm the start of the Labor Day weekend I receive a message from the health desk stating that I have been re-cleared to serve in Nepal!!!
September 6th -
 I departed for San Francisco to beginning staging, which brought my application process to along awaited end.
When you make it through the process, and your sitting on the plane heading to your assigned country or your sitting in your room at your permanent site, and you think back to the long process and how you overcame it, and then you think about all the hurdles that still lie ahead for you both in your Pre-Service Training and after you swear in as a Peace Corps Volunteer. You begin to understand that the application process conditions you to be flexible, patient and to take things one day, or one document at a time. As the Peace Corps expression goes "this is the hardest job, you'll ever love"